Your Cloud Account URL should be whitelisted between both User Workstations and Media Players
TCP Port 443 need to be open between user workstations and the Cloud URL to access the Carousel user interface over the internet.
Web Sockets need to be open between your user workstations and the Cloud URL if your network proxy filters all web requests.
and
TCP Port 443 needs to be open between your Media players and the Cloud URL.
Web Sockets* also need to be open between your Media players and the Cloud URL if your network proxy filters all web requests.

This allows the players to be able to get on-demand content, alert content and channel change notifications from the Cloud

mail.carouselsignage.net is used to invite new users to join your Cloud Account so be sure to whitelist that as well
*Media players will still be able to change content/channels without WebSockets but it may be delayed up to a few minutes, also the player status will remain orange for connected players
Your Media players also need to be able to access:
The URL(s) of streaming network video you wish to display (port can be specified in URL)

The URL of websites used for interactive bulletins.
Important note about Brightsign:
Any questions about Brightsign player setup should be directed to support@brightsign.biz
This is a basic diagram of a Carousel Cloud system: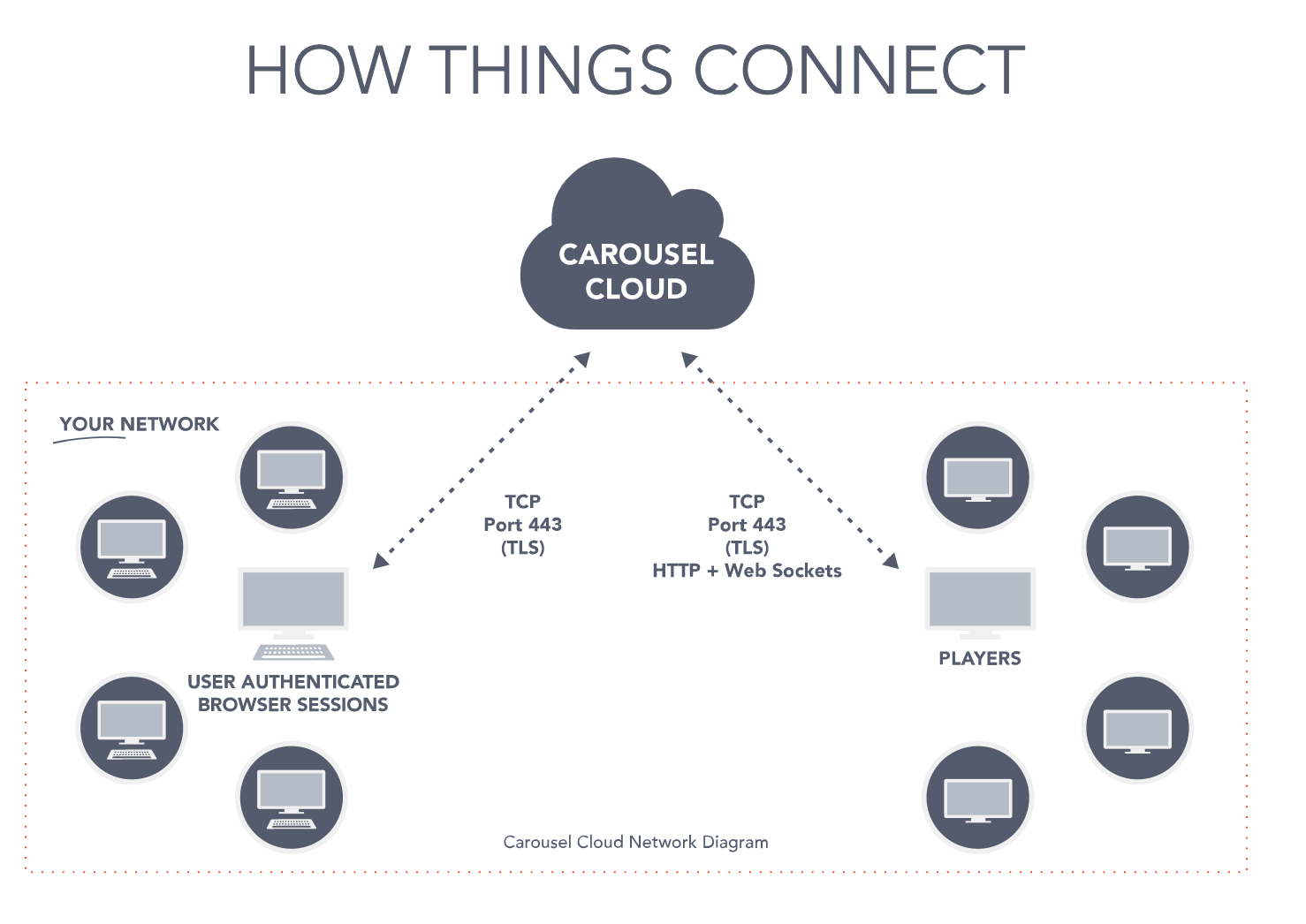 A note on Bandwidth
Carousel Cloud works hard to use your bandwidth allocation conservatively. Connected media players will download and cache all content except for streaming video and store it locally until it is no longer needed. Let's say you upload a 50MB video that you would like to display on 10 media players every day for a month. The players will each download the video one time when it is first scheduled, resulting in using a total of 500MB of your Cloud Bandwidth. All other bulletin types (except for live video streaming and clock bulletins) are rendered as JPG's and downloaded onto your media players from the cloud as scheduled. Streaming video goes directly from the streaming source to the media players so it will not significantly impact your bandwidth allocation.
A note on Storage
The video you've uploaded to your cloud account will use 50MB of cloud storage until it is deleted. While your bandwidth usage resets each month, your storage allocation is a constant total that can fill up over time. We recommend deleting bulletins that are no longer needed as opposed to storing them as expired bulletins in order to make best use of your storage allocation.